Short story
: 1974 Super Beetle project lot - $850 obo for everything.
Long Story
: Iím selling my 1974 VW Super Beetle. Itís not assembled, as a matter of fact, itís just the opposite.
Title: Good, clean, clear MD Title (not salvage). I have the title in hand.
I had the full intention of putting it all back together and getting it on the road, but that plan has changed. I have two kids and my time is going there, not to my car.
I have done some work on it, mainly to the pan. It was blasted down to bare metal, bad metal was replaced, and then sealed with Master Series paint. This is the stuff that will keep any rust from forming, and any scratches that are caused by impacts or otherwise, wonít spread.
The body is in good shape. One of the heater channels has been fixed, but the welds arenít that great. They should be cleaned up. The passenger side heater channel needs to be worked on, but I have the repair panel for that that can we welded in when you are ready. It had an engine fire before I got it, so thereís some rust on the rear where the fire go to it, but much of that has been cleaned up. Itís not all that bad cosmetically, you just wonít end up with a show winner unless you spend some time with it. The factory paint on the hood is good, but gets worse the further you go back. I was planning to paint the side panels red below the trim line, so I experimented with the driverís front quarter, hence the reason itís red.
I have yet to take pics of everything else I have, bit hereís just a taste. Itís what I have in the shed. Basically, I have everything to put the car back together and get it on the road, I just donít have the time.
I will take more pics very soon of what I have the basement. Thereís lots there!!!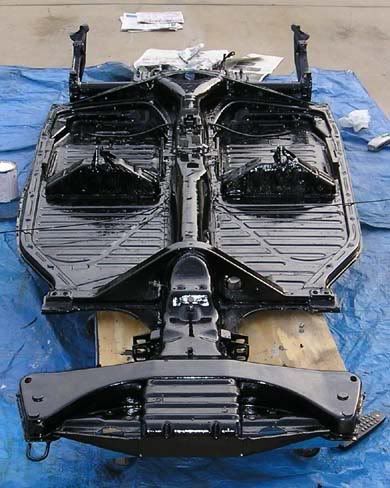 Hereís what she looked like when I brought her home a couple of years ago:
Iím sure Iím forgetting something, so check back as I will update this with information and pics when I have them.
If youíre interested, let me know. We can work something out. It will need to be trailered as its just a bare pan, body, and assorted parts.
Mikey