Been a while since I posted anything, but have been passively watching.
Continues to be a rough year on the personnal side but surviving. Still dealing with some family and personnal issues, but patiently waiting to get back in stride.
In the mean time was able to save a few dollars to pickup a weekend car, that is dual purpose for the track. I know a few of you do Time Trials, HPDE or full out race. For now taking the jump from HPDE to Time Trials. Was able to do an event with a local group last month, which was the first time in 2-3 years. Well pickup the car from shop 2 days prior, was rusty and a new track, which were all the making for a disaster. Since I was running solo figured I better keep my expectations in check, and just run safe. Well to say the least my car was one of the lowest power cars, against EVO's, V8 M3 and other well prepped cars. I have some video which I will try to convert and post but it just reminds me of how many pass by I had to give.. non the less, car ran well, need heavier sway bars and he suspension is way to soft, and need to get more camber.. For now saving money getting some maintence sorted, and later in the year will get the suspesion mods done. Goal is to get NASA or similiar license to run Spec e30 or simliar.. Sometimes I wish I had more power but it does cause you to be quicker by learning to drive a momentum car.
Here are some pics of my angry bird, enjoy.
At the shop with street seats, as I have a bucket for the track:
Some bling in size 15
At work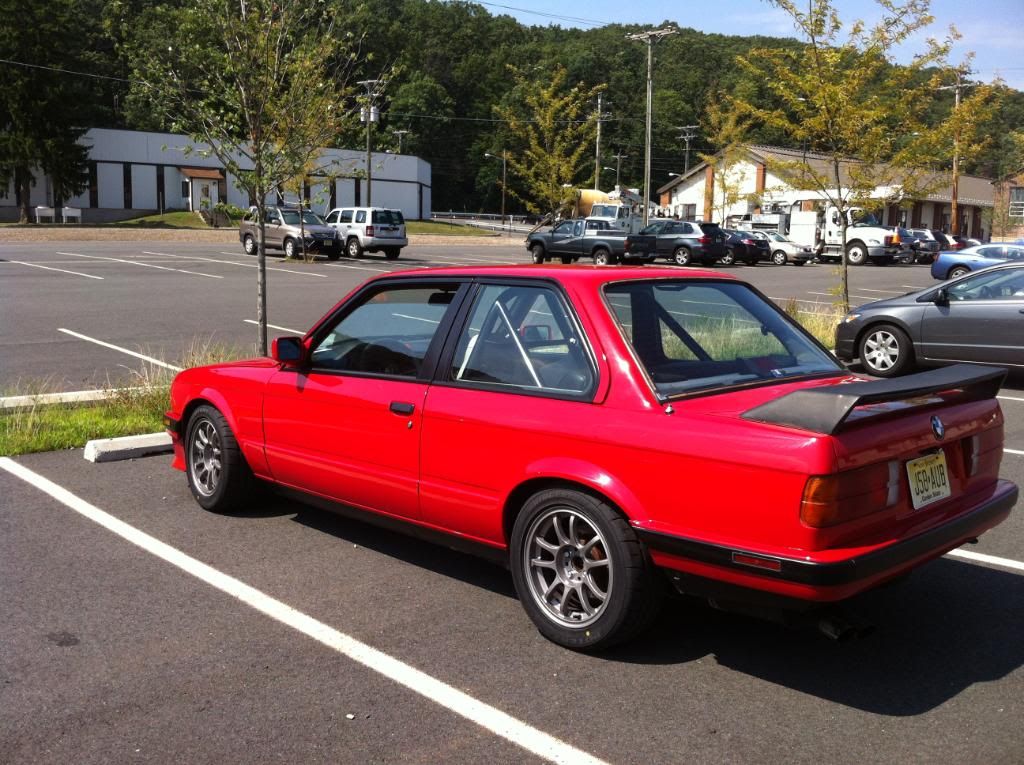 Could not help, saw this red M3 parked while on TDY for work.. so could not resist..
Thanks
Alex